Save with Zero Capital Outlay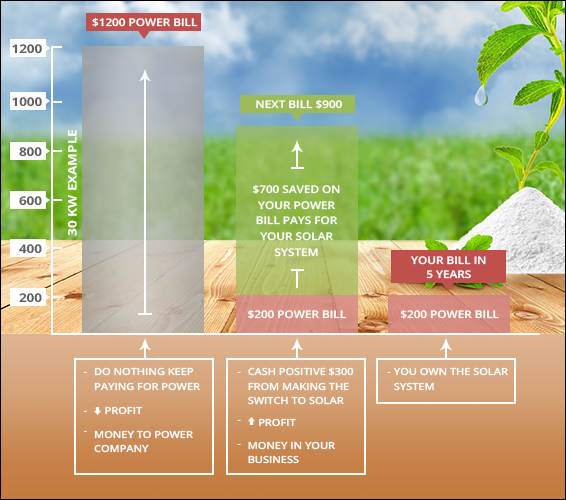 Solar Leasing
Have a self-sustainable business model – with ZERO capital outlay!
In today's environmentally conscious world, it is becoming increasingly important to demonstrate sustainability initiatives in your business. Now more than ever, businesses in this harsh economic climate need to start retaining profits in their business but do not know where to start. Our solar leasing model will do this for you by reducing electricity costs and beating the carbon tax.
We predict that over the next 5 years, electricity prices will rise at least 50%, with an already expected increase of 10% in July this year.
Solar Naturally can help protect you from these rising electricity prices by installing a commercial solar power panel system in Perth.
What can I do to start increasing profits and saving my money for my business?
In a bid to lower carbon emissions and make solar power more accessible to businesses, Solar Naturally has developed a 'pay as you save' solar scheme, which means there is ZERO capital outlay involved in installing a solar power system. Everyone can now easily increase profits in their business easily. Just ask Solar Naturally how you can do this for FREE!
How does it work?
The solar power leasing concept, which has seen major success in the UK and USA, is now available to you in Perth. The main is a 'pay as you save' arrangement that allows you to install a solar power panel system at ZERO cost, while at the same time reaping the benefits of having a solar panel system and saving money on your power bill.
The money paid towards your lease will be used to purchase an asset rather than being an expense paid to your electricity retailer.
Virtually all businesses in Western Australia purchase their power from the electrical grid through an electricity retailer. For us here in Perth, it is Synergy, Alinta, or Perth Energy.
Having a solar PV system essentially enables a business to bypass Synergy when the sun is shining — with their rates constantly on the rise, avoiding having to purchase power from them is becoming more and more desirable.
Will I save enough money with a solar leasing program?
In MOST cases, your savings will exceed your repayments, and your business will be in a cash positive position.
The price of having a solar PV system installed has been steadily falling, making solar power an increasingly smart investment. Even so, not everyone has the resources to buy large scale solar systems up front, and conventional financing plans often inflate the ultimate out-of-pocket cost of a system, reducing the end return on investment (ROI).
This is why solar power leasing with Solar Naturally is an excellent way to increase the profitability of your business, get rid of your electricity bill and be self-dependent!
After the solar lease arrangement ends, the panels belong to you, and they will continue to save you money for up to 30 years!
To find out more about solar power leasing call Solar Naturally's team of solar power experts at Solar Naturally on 1300 168 138.