6Kw Solar System Perth
The 6kW solar system Perth is one of the most popular solar packages we offer. The 6kW system is the perfect size for most families as it produces 31kW / day.
Our 6kW solar system includes full installation, 17 x 390W Tier 1 solar panels and a 5.0kW high efficiency inverter.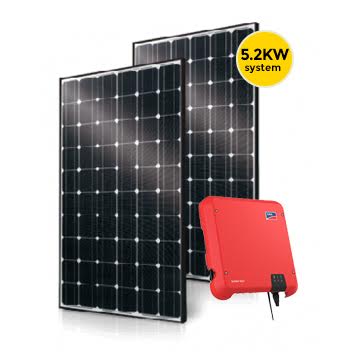 You can choose the solar panel option that works best for your home from the many different packages we offer. Our design consultants help you understand your home's power consumption and usage. Once they have this information, they can provide you with the best solution for your unique power situation. It is important for you to have an in-depth understanding of what to expect the system to produce on an average day. Extremely knowledgeable and experienced in-house CEC electricians install our top-quality residential solar PV packages. Rather than contract out, we employ our team members internally. You can rest assured that the best in the business are working on your home.
Investing in residential solar power means you are investing in the future of our planet and solar systems are a great way to lower greenhouse gas emissions and reduce your carbon footprint. Reduce your home energy costs while helping the environment. Here at Solar Naturally, we have helped families save thousands of dollars each year by installing home solar systems. Average households save over $2,000 every year by installing a residential solar system Perth.